Red Deer Roundup: Do not feed the trolls and haters
The eye of the storm...that's exactly the point of the offseason we were stuck in this week. Last week had the excitement of the draft and the amazing jersey reveal.
This week we were left with some goofy radio host in Toronto that made a feeble attempt at running down the Canadian Football League.
And as always, CFL fans took the bait.
Honestly, Dean Blundell is the biggest douchebag going.  #CFL

— Laura Stewart (@lstewy) May 18, 2016
@ItsDeanBlundell I can't believe you would hold a poll like that in this country. You are a true low life and a total waste of DNA.

— Jan Langsner (@jlshooter) May 18, 2016
Even some players got involved in the Twitter action...
@ItsDeanBlundell @CFL_News this cornball is only a pundit. Wouldn't last 1 snap on a football field. Respect the Canadian game! #Clueless

— Matt Black (@MattBlack39) May 17, 2016
@ItsDeanBlundell @CFL_News CFL over nfl any day ! Wayyy more fun I played both but we all kno as humans money makes a difference in life

— brandon banks (@speedybanks87) May 17, 2016
Why a *Canadian* media personality would slam a league that employs hundreds of *Canadians* is beyond me. It's time we let the naysayers sit in the corner and cry for attention without giving it to them because it's clear their knowledge of the game of football is extremely limited.
I always believed that "enthusiasm is contagious". Continue to wear your Green & Gold, Double Blue, or Red & White and we can enjoy this game that is undeniably ours. Besides, that just means more beer for us.
•  Saskatchewan's fourth-round pikc and former Manitoba Bison, David Onyemata, has signed a four-year deal with the New Orleans Saints. Before you get too excited, NFL teams *must* sign drafted players to four-year deals. Either way, I'm not betting on seeing Onyemata north of the border any time soon or ever.
•  The BC Lions could be rewarded for their second-round gamble in the 2015 Draft on Saskatoon product Brett Boyko. Boyko has been released by the Philadelphia Eagles and says if another NFL opportunity doesn't arise, he *will* be playing in the CFL.
•  CFL detractors won't be able to avoid the league's message very soon in Toronto, Montreal and Vancouver. I'm really digging the league's new attitude and momentum heading into this season.
•  I booked my flights to the 104th Grey Cup in Toronto. See you at the Spirit of Edmonton!
•  The CFL's Supplemental Draft is coming up on Tuesday featuring three players that didn't receive national designations in time for last week's draft. No one explains the process better than Justin Dunk.
•  If you aren't following SportsCentre's Derek Taylor on Twitter, do yourself a favour and do it. He's releasing some incredible stats every day leading up to the season.
•  The Saskatchewan Roughriders have announced that Matt Dominguez and Ivan Gutfriend will be inducted into the Plaza of Honor this year.
•  The Calgary Stampeders have signed Alex Singleton and three other 2016 Draft Picks. Jon Hufnagel is very high on Singleton and he could be one of the best values of this year's draft class.
•  After being snubbed in the NFL Draft, Oregon's Vernon Adams could be heading to Vancouver. BC already has quite the quarterback stable with Jonathon Jennings, Travis Lulay, Greg McGhee and Keith Price, but who wouldn't want this guy on their team?
Then again, everyone thought Alabama's Blake Sims would be perfect for the CFL, but he's since been cut in Toronto and Saskatchewan.
•  Breaking news: The Cleveland Cavaliers are awesome. They now lead the NBA Eastern Conference Final 2-0 over the Raptors. [Mutter, mutter, things'd be different if Jonas Valanciunas were in there, mutter, grumble, grouse… -- Ed.]
•  Congratulations to Weston Dressler for being inducted into the North Dakota High School Track & Field Hall of Fame!
•  How many other players in the majors wanted to be the one to punch Jose Bautista? Odor just did what everyone else *wanted* to do.
•  If Justin Trudeau's "elbow" was going to cause that much of a ruckus, he should have made it worth it. I'm actually kind of jealous of Americans that get to be a part of that political battle royale that's brewing.
•  It looks like we're going to have some great draft classes coming up to the CFL for years to come. Last week's East West Bowl had some great moments, with the West prevailing 29-14 in the 14th edition of the game.
•   Amobi Okoye, 10th overall pick in the 2007 NFL Draft, is headed to Ottawa. They'll be looking to patch together a defensive line after the off-season departures of Shawn Lemon, Justin Capicciotti and now Jonathan Williams.
•  While preparing to defend the Grey Cup, Eskimos general manager Ed Hervey fulfilled a promise to his mom by earning his university degree.
Hervey was nice enough to pose for a photo with me at the Grey Cup in Winnipeg in November.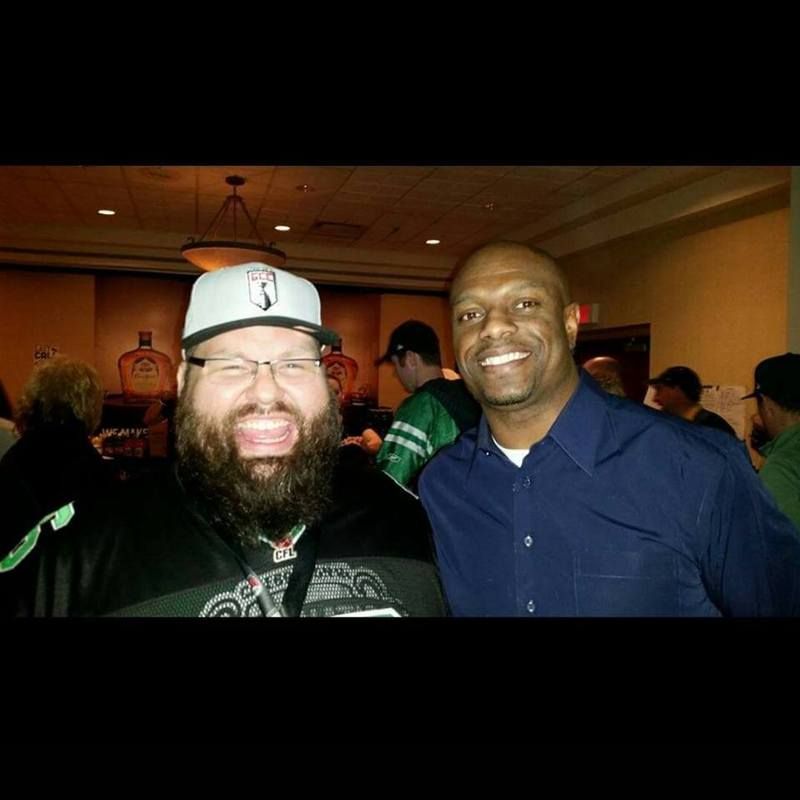 •  My new Rider threads are in the mail...I just couldn't resist any longer. I'm actually impressed I made it a full 48 hours without ordering and I'm thankful I'm married to a football fan. I made mention on Twitter that I was thinking about getting Darian Durant and Chris Best's names on my new jerseys. Well, I got this tweet...
@2andOutCFL @TravisLee87 @dariandurant let me know and I will sign it for you after a game/practice

— Chris Best (@ChrisBest_66) May 16, 2016
I love this league.
Can you believe camp starts next weekend? Football is finally back!
– written by Travis Currah
---
---