Red Deer roundup: Pinball in the 'Hall!
Finally. Pinball Clemons is being inducted into the Canadian Sports Hall of Fame and the first thought that came to mind was, "It's about time". That million dollar smile itself should have been inducted long ago!
Even though "Pinball" is only 5'6", he became one of the most dynamic players in CFL history. Clemons won four Grey Cups (three as a player), was named a CFL All-Star twice, was the Most Outstanding Player in 1990, and gained a CFL-record 25,438 all-purpose yards over 11 seasons with the Argos. Am I the only one that was shocked he was "only" a two-time all-star?
Pretty good for a guy that came to the CFL to "get football out of his system". Congrats Pinball!
•  The NFL draft is going on this weekend and up to five Canadians *could* be selected. It'll be interesting to see which CFL teams will take a chance on these NFL hopefuls in the upcoming CFL draft.
•  2013 Grey Cup MVP Kory Sheets posted a short Instagram video as he was getting ready for Montreal Alouettes mini-camp. It'd make for a great story for Sheets to battle back from another injury suffered when he was last with the Oakland Raiders.
•  Speaking of the Raiders ... Las Vegas. Really? Mark Davis may just be as crazy as Al.
•  The NFL and CFL have announced an officiating partnership which will have some NFL referees showing officiating CFL regular season games.
Let's just hope it isn't these guys...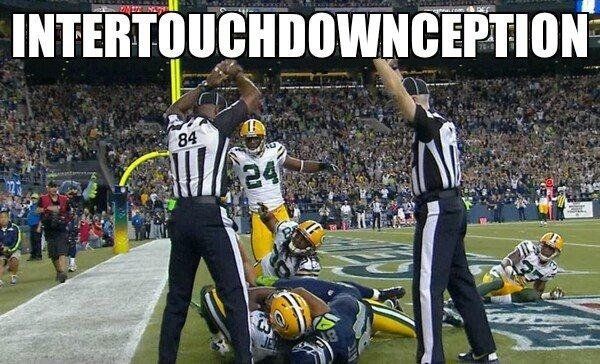 •  Apparently Thursday was National Superhero Day. I caught Batman V. Superman last week and enjoyed the experience despite the two necking kids a few rows back. I might be getting old and cranky but those slurping sound effects didn't complement the movie very well. [Surely those two had a superior experience to those of us who actually *watched* that thing… --Ed.]
•  Jeffrey Orridge has been a busy commissioner this year. The CFL and CFLPA has now announced some new player health and safety initiatives.
•  Speaking of the Commish, he, along with President and CEO of the Edmonton Eskimos, Len Rhodes, has been traveling with the Grey Cup to see our Canadian troops overseas.
In Kuwait,the Grey Cup in good hands with @LenRhodesPrez along with @MWeightmanAls Canadian Forces are the best! pic.twitter.com/w56WPwLcRc

— Jeffrey Orridge (@Commish13) April 25, 2016
•  The Saskatchewan Roughriders have announced where the seats installed during the Grey Cup Legacy Project will end up after the season.
•  The CFL is driving me nuts for teasing us with these new jerseys. May 12th can't some soon enough. Why not show off the draft picks with the new uniforms?
•  Every single CFL team was under the salary cap last season. The Riders have been criticized for ignoring the cap to win the Grey Cup in 2013 so I'm glad they were under this past season. That would have been embarrassing at 3-15.
•  Screw Game of Thrones. Bring on "Game of Rouges". Brace yourselves ... June is coming... (Did I do that right?)
•  The Tim Horton's Field Delays are now in court. I'm sure they could have met at a Timmy's with a double double and some TimBits to figure this out. It seems like Saskatchewan has been the only franchise to get this stadium thing right. Winnipeg and Hamilton have both had extensive growing pains but it seems like the changes have been worth it. It's not like Investors Group Field has had no issues either, though...
We are so close #IsItJuneYet pic.twitter.com/TFYa24da6n

— Edmonton Eskimos (@EdmontonEsks) April 28, 2016
Is there any way we can just skip May?
– written by Travis Currah
---
---