Red Deer roundup: Whaddya mean, no CFL news?
If the CFL offseason has taught me one thing, it's that fans of Canadian football have a passion that is unmatched. Is there any other fan base on the planet that actually chastises a league for lack of news during the offseason?
I've heard NHL fans say they miss hockey during the summer and I've heard people say that the NFL needs to knock it off on the offseason drama but CFL fans seem to *crave* it.
Maybe that extra day in February is making this lull seem longer than ever. We could blame it on the brutal Canadian NHL teams or the fact that the Blue Jays are back to playing like, say, the twenty years before last year's All-Star Break. Maybe it's because no one matters in the NBA outside of Golden State and San Antonio.
I suggest the NHL hosts a golf tournament for all seven Canadian teams. Just imagine the Flames and Oilers on the course...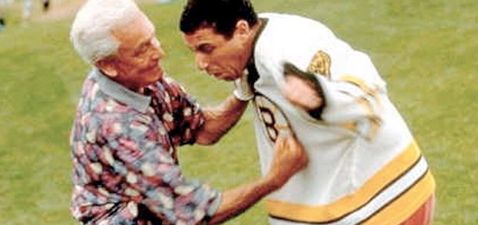 Despite all of the whining, there actually *was* plenty of news this week.
•  Tyron Brackenridge is retiring from the game of football. The 31-year old signed with Saskatchewan in 2011 and was named an all-star in both 2013 and 2014. The 101st Grey Cup Champion was just as popular in Saskatchewan off the field as he was on the field. I'm sure opposing receivers won't miss him prowling in Saskatchewan's secondary.
•  Brackenridge was a free agent but one of Saskatchewan's prized free agent signings, Maurice Price, doesn't plan to play in 2016, either. Despite changing his mind on the upcoming season, he still gets to keep the signing bonus he was given when he signed an extension earlier this year.
•  One of the criticisms of new commissioner Jeffrey Orridge was the fact that the CFL had absolutely no drug policy last season. Well, the league and players association has reached an agreement while reconciling with the Canadian Centre for Ethics in Sport.
1st violation will result in a 2-game suspension. 2nd a 9-game suspension. 3rd a 1-year ban. 4th results in a lifetime ban. #CFL

— Dave Campbell (@Dave_CHED) April 21, 2016
Oh, and Ricky Williams' favourite rule is still intact..
Just clarified with the @CFL: marijuana still not a banned substance under new drug policy. Which is good for lots of reasons. @CFLPA #CFL

— Drew Edwards (@scratchingpost) April 21, 2016
•  While Canadian men are being encouraged to "Know Thy Nuts" this month, CFL players and its fans were talking about balls on Thursday.
What do y'all think? Stitched on black instead of painted white. Better leather too! @CFL @calstampeders pic.twitter.com/SpmQErywVg

— Bo Levi Mitchell (@BoLeviMitchell) April 21, 2016
Maybe I'm stubborn and afraid of change but I still prefer the white stripe.
•  I just got approved for my first mortgage! I've done way too many adult things so far in 2016…
•  The RedBlacks have signed former Texas Longhorn receiver John Harris. Harris gained 1,051 yards while scoring seven touchdowns in 2014.
•  The CFL is gearing up for the new Adidas jersey reveal next month and I can't lie: They have me excited. Apparently every single player there enjoyed their new uniforms except for one: SJ Green. I'm sure that won't hinder him from making more circus catches next season.
.@SJ19_19SJ, when asked what he would do if he were commish for a day, said he wouldn't make #AlsMTL wear their new unis. - @PentonKirk #CFL

— CFL News (@CFL_News) April 20, 2016
•  2016 has been a rough year for entertainers. Late Wednesday night, we got the news that former WWE superstar Joanie "Chyna" Laurer had died and then on Thursday afternoon, the world heard that we had lost Prince.
Rest in Purple.
•  Chris Jones finally got his day with the Grey Cup.
The Jones' 🏆🏆🏆 #CFL #GreyCup pic.twitter.com/VLhlFAhzJm

— CFL (@CFL) April 21, 2016
•  There have been some blockbuster moves in the NFL as we get ready for the draft. Could Chris Jones and the Roughriders move their #1 pick?
•  So the key to getting a shot in the NFL is to sign with the Major League Football League first? That's exactly what Dan LeFevour did. Rosters *are* huge right now but that one came out of the leftfield file.
•  The Ontario Sports Hall of Fame has named RedBlacks receiver Brad Sinopoli the Syl Apps Athlete of the Year.
•  Thomas DeMarco is now an Edmonton Eskimo. What happens to James Franklin? There could be an interesting battle in Edmonton to back-up Mike Reilly.
Patience is a virtue, football fans. June is almost here.
– written by Travis Currah
---
---