Stamps flex muscles; Riders ... show up
There's nothing better than fall football.
Not only is the weather colder, but the beer is too. There's a different feel in the air with the Grey Cup lurking around the corner. It's almost as though you're anxious for it to arrive but sad that the eight-month offseason will be here before we know it. Is it June yet?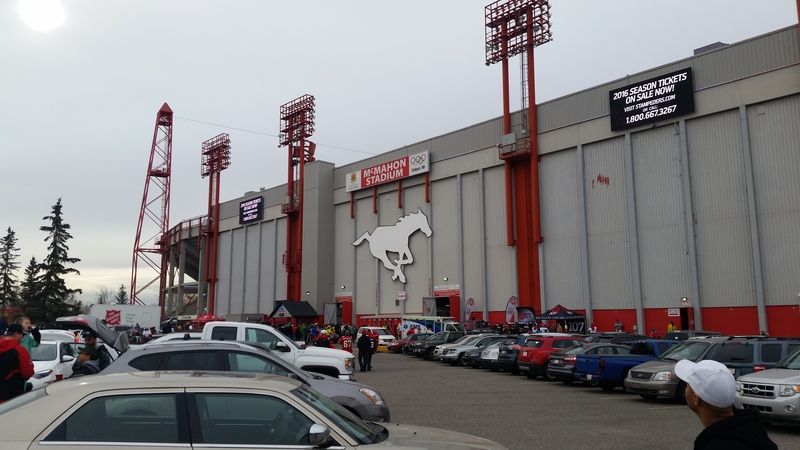 And then you get the Halloween games – those are always an "interesting event".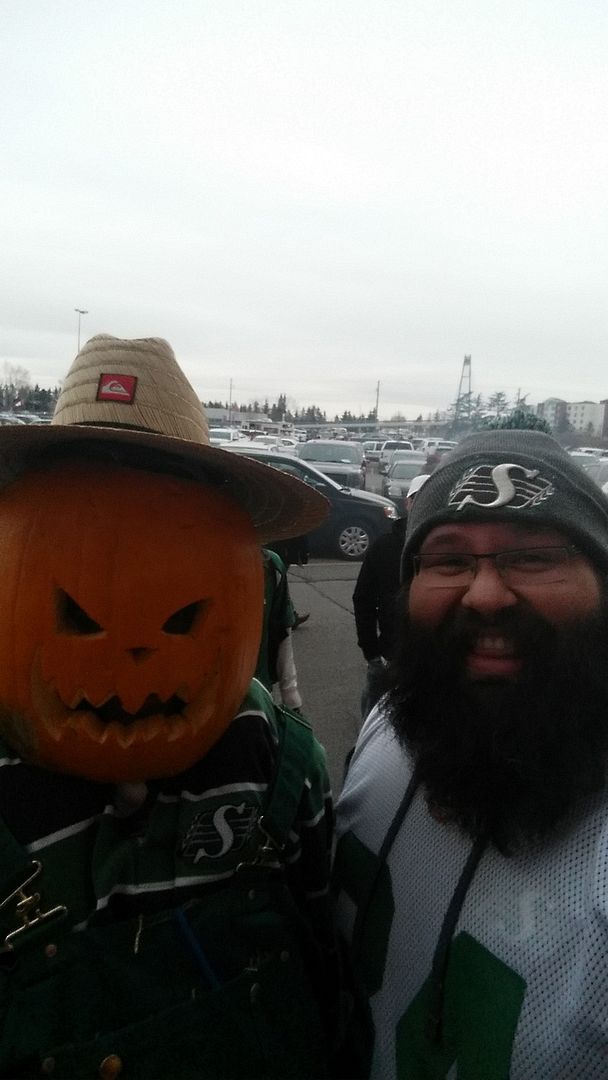 Huge props to that Rider fan for keeping a pumpkin on his head all game to celebrate the occasion.
Even though the Roughriders only entered this game with two wins on the season, I'd say about a quarter of the fans in the stands in Calgary were donning the Rider green. If you've ever questioned Rider Pride, on Saturday you got your answer: It's real.
While Saturday's game was essentially a preseason game for Saskatchewan, the Stampeders had a lot to play for: First place in the West is still within reach for Calgary if the Alouettes can halt Edmonton's seven-game winning streak on Sunday and, judging by Montreal's performance a week ago against Toronto, it's a very real possibility.
Jerome Messam rumbled for 121 yards against his former team, Bo Levi Mitchell tossed three touchdowns and Eric "Cheat Code" Rogers was on the receiving end of two of those scores on the way to a 42-19 win for Calgary. Don't tell them they can't defend their championship.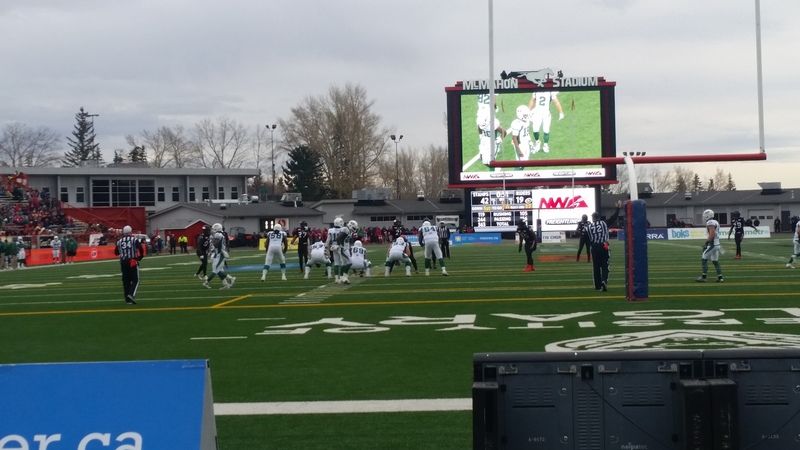 As you can tell by the scoreboard, I always stay until the bitter end no matter how bad my team performs. Also, I had a cool opportunity to enjoy the game from an entirely new perspective – from the Telus patio in McMahon Stadium's North endzone. It was tough to make sense of the angles but it made me respect what quarterbacks and referees do even more.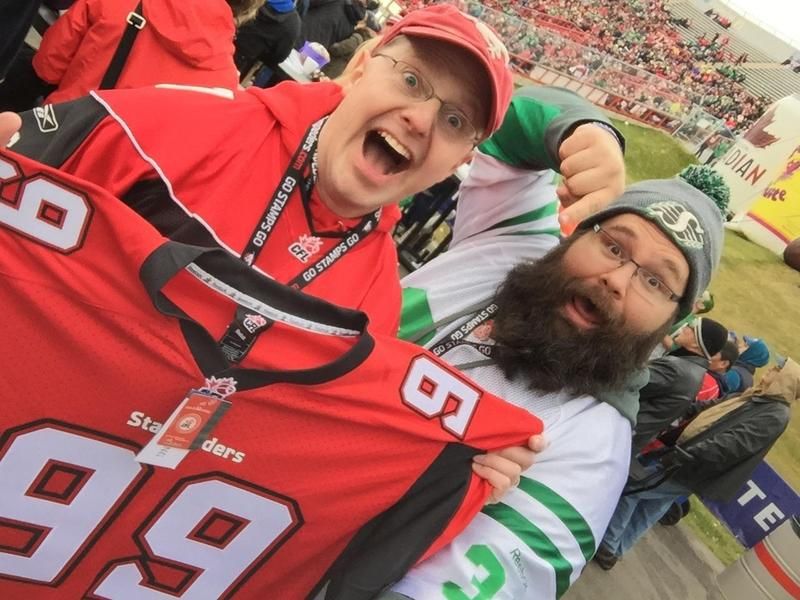 While I didn't win anything, my friend Scott ended up winning a signed Corey Mace jersey! Shortly after I told him I'd sell him the jersey for two beers if my name was drawn too.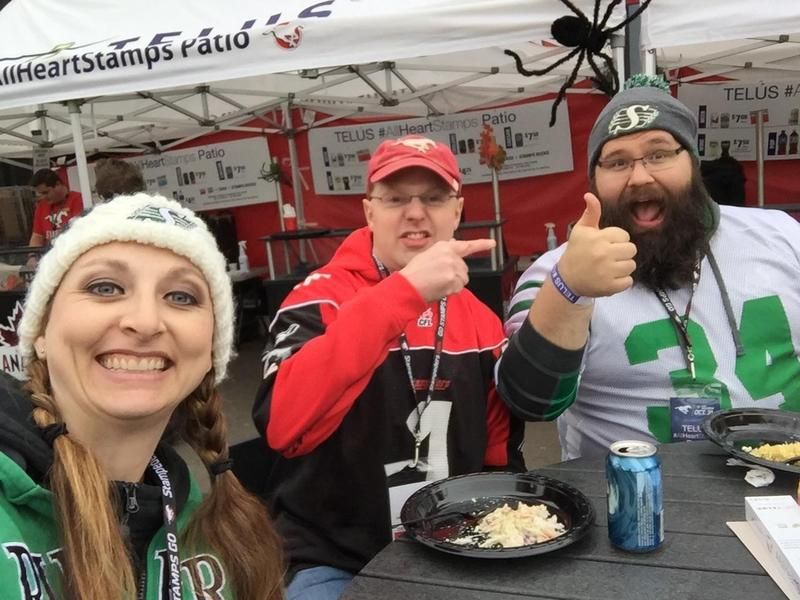 I've read that the CFL brings Canadians together like nothing else and before this season, I wasn't sure I really believed the sentiment to the extent I do now. After attending nearly every Eskimos home game, Labour Day Weekend in two different cities and now this affair on Halloween I'm really feeling the sense of community. The CFL and its fans are just a giant family. The Stampeder fans may be the drunken uncle of the family and the Eskimo Empire may be the rich cousin but family's family – right?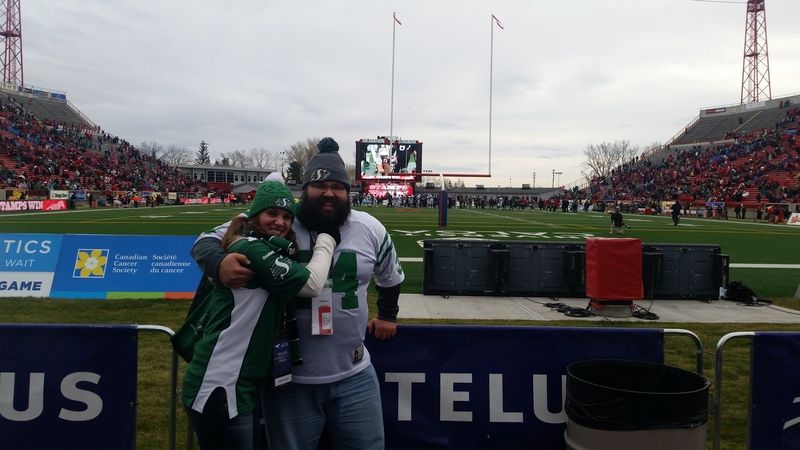 I'm just glad my sister and I cheer for the same team otherwise it'd get *really* ugly at Christmas dinner.
While Saskatchewan has nothing to play for the remainder of the season, there's a lot of exciting football still to be played. Edmonton holds their own fate in their hands and first place in the East is yet to be decided as well. Then, finally, during the last week of November we can put all our differences aside and raise a glass (or six) to the greatest game in the world at the 103rd Grey Cup in Winnipeg, Manitoba.
– written by Travis Currah
---
---