RedBlacks beat Winnipeg, clinch first Ottawa playoff game since 1994
For the first time in franchise history, the Ottawa RedBlacks are in the playoffs following a 27-24 win over the desperate Winnipeg Blue Bombers. Of course, 2015 marks only Ottawa's second season back in the CFL but with only two wins last year, most didn't give the RedBlacks much of a chance coming into this season.
Football fans in the nation's capital haven't seen a playoff game since 1994, and you'd have to go back to 1990 for the last time Ottawa *hosted* a playoff game. You then have to travel in time further, to 1981, for the last time an Ottawa franchise actually won a playoff game and way back to 1976 for a Grey Cup win: Older Roughrider (the green kind) fans will still remember the pain of "The Catch" Tony Gabriel made to clinch that game.
Between 1976 and now, there have been 13 seasons in which Ottawa didn't even have a CFL franchise, but it's clear that the "R Nation" is hungry for a winning team. In fact, with one more win, these RedBlacks will be the first Ottawa team to finish above .500 since 1979. There's no question: The fans deserve this.
In Friday's game against Winnipeg, Henry Burris continued his MOP-worthy season. Burris leads the CFL in passing yards and completions, all at the ripe age of 40. And I'm not sure he's really getting the credit he deserves. The future Hall of Famer had every right to refuse to go to Ottawa last season (or at least have a very poor attitude) and could have opted to either retire or demand a trade to a contender. Instead, he lived up to his nickname and put on a smile, becoming an amazing leader and an integral part of the growth of football in Ottawa.
In fact, if Smilin' Hank finishes the season as the CFL's passing leader he will be the first Ottawa quarterback to have done so since this guy did exactly that in 1969: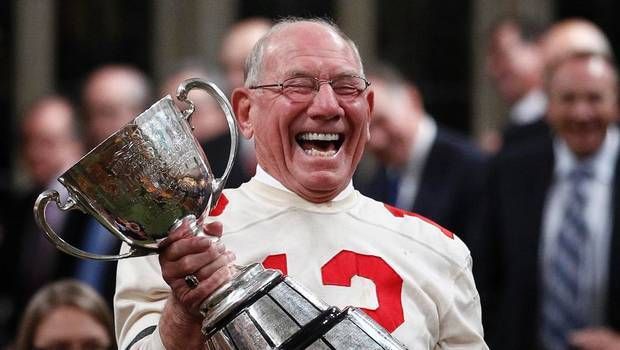 Yup. The same Russ Jackson that had this fan ignoring the Prime Minister and CFL Commissioner only to shake his hand.
William Powell made his first CFL start at running back and made an instant impact in the Ottawa offense. With 69 yards on the ground, 47 through the air and two touchdowns, it's clear that he is not much of a downgrade from Jeremiah Johnson, who's done for the year with a foot dislocation.
Powell's job will be made a whole lot easier with an all-star cast of receivers for Henry Burris to rely on. On Friday, Chris Williams became the first RedBlacks receiver to reach the 1,000-yard plateau with 125 yards on the night, while Greg Ellingson added 101 yards of his own.
Next week Ottawa wraps up the home-and-home series with Winnipeg before having another back-to-back with Hamilton to end the year. The RedBlacks could yet go from worst to first in a single season!
– written by Travis Currah
---
---