Roughriders win; hope remains in Saskatchewan
One of the beautiful things about the Canadian Football League is that it takes *a lot* for your team to be officially out of the playoff race. At 1-11 heading into Sunday's game against Montreal, the Saskatchewan Roughriders *still* had a chance at qualifying for the playoffs with BC and Winnipeg failing to create significant space – and that chance remains following a 33-21 victory.
Rakeem Cato, entering the game in relief of Jonathan Crompton, was able to score some garbage-time points but don't be fooled: This game was never in doubt. Saskatchewan led the game from their *first offensive play* early in the first quarter, a touchdown pass to Rob Bagg, and never looked back.
The Rider offense became the first team to put up 30 points on the Als in 2015, doing so with a heavy dose of Jerome Messam and defensive turnovers.
.@JMessam leads the #CFL in rushing after his impressive game yesterday. pic.twitter.com/7giUfQmcKX

— CFL (@CFL) September 28, 2015
With Tyrell Sutton missing Sunday's game due to injury, Messam was able to jump into the league's top spot as the CFL's leading rusher, a margin that could grow even wider with Andrew Harris's status in doubt this week. Interestingly enough, three of the four top rushers are Canadian!
Despite a strong effort from Messam, my game ball went straight to Rider defensive back Macho Harris.
@Section_O Macho Harris and his hair disagree with you. #Riders pic.twitter.com/OPHYCG0RuS

— Clay Chisholm (@AllKindsOfClay) September 27, 2015
Not only is he related to Macho Man Rider Savage (kidding), he also has the best hair in the Canadian Football League (not kidding). Honorable mention to Aaron Grymes of the Eskimos and pre-haircut Jonathan Crompton.
All jokes aside, Harris has been chastised by Rider Nation throughout the season as the physical defender has struggled in adjusting to the CFL's new rules. Everything came together on Sunday as Macho now has one-third of Saskatchewan's interceptions on the season after this single game.
Not one, not two but THREE INTs for @MachoHarris today! #CFL pic.twitter.com/nnbBJ9XNRX

— CFL (@CFL) September 27, 2015
Quite the game, Macho!
Sunday's win puts Saskatchewan four points back of both BC and Winnipeg with each squad owning the tiebreaker over the Riders. The Riders would have to out-perform Montreal the rest of the season too, as the Alouettes currently sit in the crossover spot with a West semifinal date with the Eskimos on the horizon if Edmonton can't overtake Calgary. Sitting six points back of Montreal with five games to go presents some pretty astronomical odds but as Lloyd Christmas once said...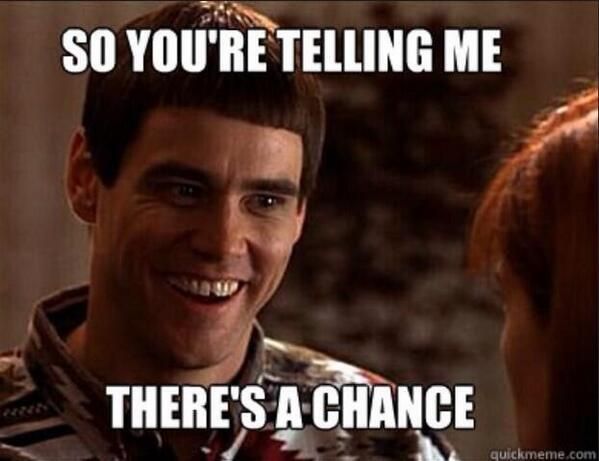 Han Solo's famous quote from Empire Strikes Back fits the situation quite well too.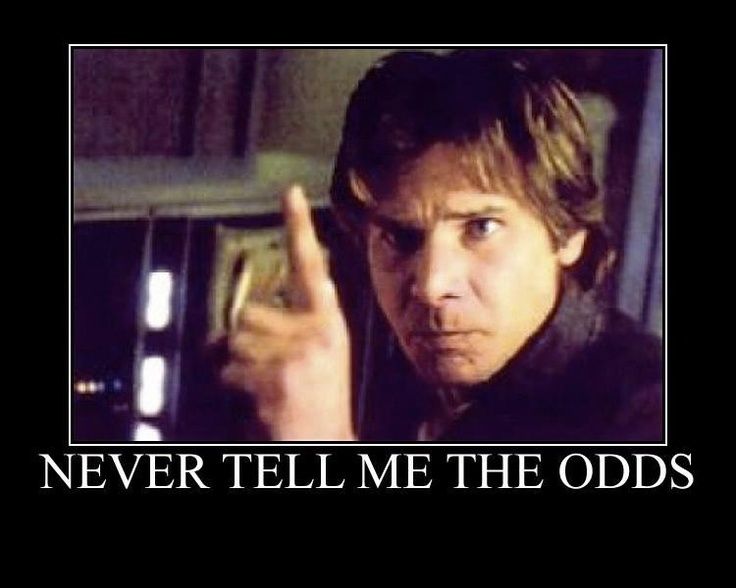 I'm just glad that guy that sits behind me at every Eskimos game can "knock" it off with the "Owen" and "Juan" knock knock jokes.
– written by Travis Currah
---
---