It Ain't Over 'Til It's Over: Esks storm back to top Lions
"No Lead is Safe" has been the slogan for the Canadian Football League over the past few seasons but in the words of the late great Yogi Berra, let's use "It Ain't Over 'Til It's Over"…
It ain't over til it's over - Yogi Berra. Wiser words have never been spoken. All the best to the NYY Legend. #RIP

— Michael Clemons MPCF (@theMPCF) September 25, 2015
The Edmonton Eskimos proved Yogi right Saturday night when they overcame an early 15-point deficit to down the BC Lions, 29-23, in front of 29,000 and change at Commonwealth Stadium [Link: ].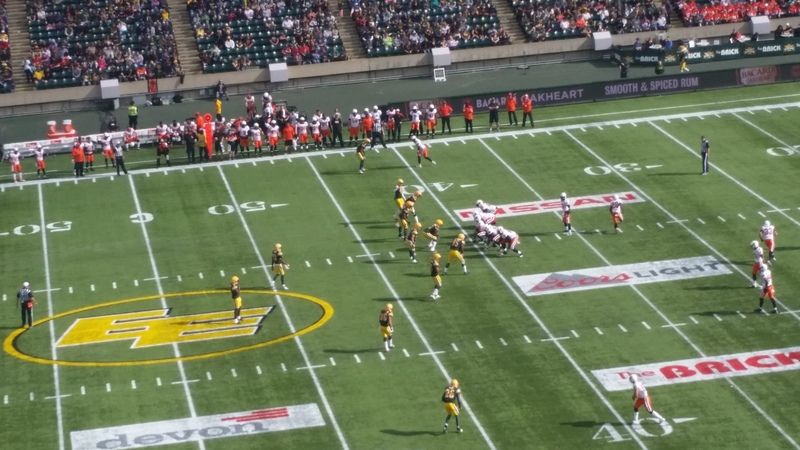 Fall football is just different. The weather is changing – it felt like we went through four different seasons during this game – and the pressure is mounting with November and the Grey Cup game in Winnipeg looming.
Coming off of two tough wins against Calgary and Hamilton, the Eskimos may have underestimated the underdog Lions in this affair and it showed when Jonathon Jennings (281 yards, two touchdowns) and company jumped out to an early 7-0 lead, forcing the Esks to play catchup from the get-go. Commonwealth Stadium isn't a kind location to have your first career start for an opposing team but Jennings performed admirably, showing that perhaps there *is* a future at the quarterback position in BC when Travis Lulay hangs up the cleats for good.
Mike Reilly has been underwhelming since returning from a knee injury on Labour Day Weekend, but he's been helping the Eskimos in the most important stat column of all: wins. It's easy to look at Reilly's stat line and think he had a decent game without realizing that most of those stats were piled up in the fourth quarter. Derel Walker had his fourth 100-yard game in his seven-game career, including this game-winning touchdown that put the Eskimos on top for good.
.@dee_sky_walker, a MONSTER on #CFLGameDay for the @EdmontonEsks pic.twitter.com/pQLXLqBItA

— CFL (@CFL) September 26, 2015
Walker accounted for well over half of Reilly's passing yards. I think it's safe to say the Eskimos have found an absolute *gem*. Edmonton will look to play a much more complete game in Winnipeg next week against a team that lost to Calgary by a mere two points Friday night.
On an unfortunate note for the BC Lions: Andrew Harris left the game left in the first quarter and was unable to return. We await an MRI while the national running back remains hopeful he'll be able to suit up next week against the Roughriders.
– written by Travis Currah
---
---