My Labour Day road trip/doubleheader
Many say that Labour Day is the beginning of the Canadian Football League's second season. Rivalries intensify and the seasons change as we get ready for the 103rd Grey Cup in Winnipeg this November.
To celebrate "Canada's sacred football holiday" I had the crazy idea of doing a Labour Day double header in Regina and Calgary. Let's rack up the kilometers!
Saturday night I drove through the pouring rain to arrive in Regina ahead of Sunday's two o'clock kickoff. And when I say it poured – I mean it rained cats and dogs. It was crazy on the highway! I was terrified that the game the next day would be played in a typhoon.
As a Labour Day veteran, I knew that the fun doesn't start at 2pm when the game starts. The fun gets underway at around 11am when the Blue Bomber fans show up at Mosaic Stadium and go to "Wayne's World".
The history of this party is about as "CFL" as it gets. Blue Bomber would fans show up in droves from Winnipeg; they'd arrive at the stadium with their booze in hand and it would all get confiscated by the police. Well, this Wayne fellow lives right across the street from the west side of the stadium and has invited Bomber fans onto his property where they can't get in trouble for having open liquor. Music, beer, fun – What else do you need?
I'm as green as they come, but I can admit these Bomber fans know how to throw a shindig.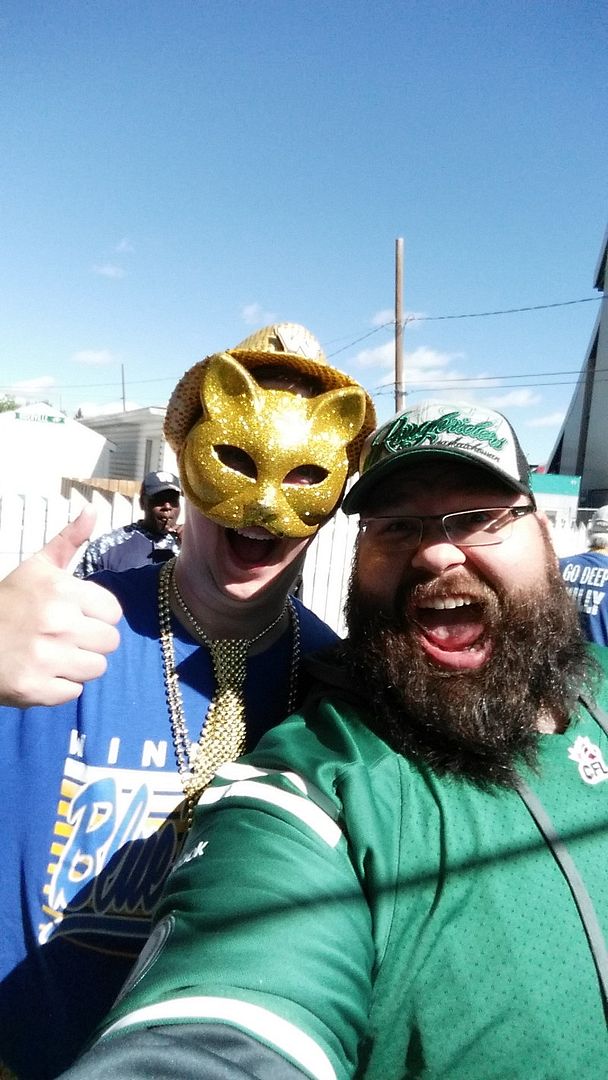 I met this crazy fan at a Grey Cup in Vancouver when the Bombers last played in the big game four years ago. A representative of the Bomber Store actually came up to us and told Neal that if he could get me into a Blue Bomber T-shirt that he'd win a $50 gift card to the Bomber Store…well…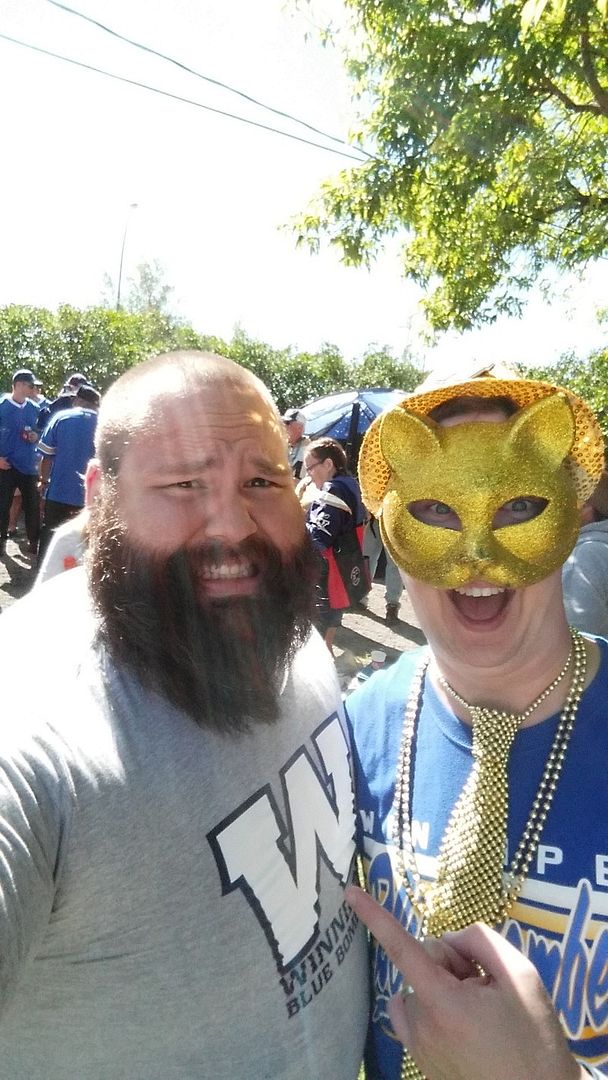 He got the $50. And then you've got Winnipeg's Golden Boy!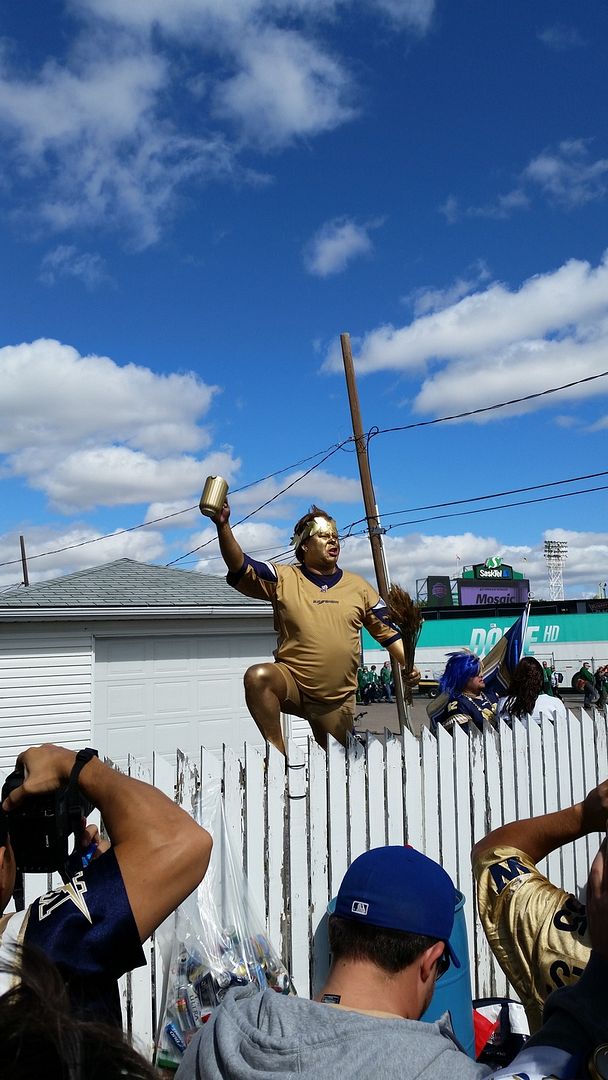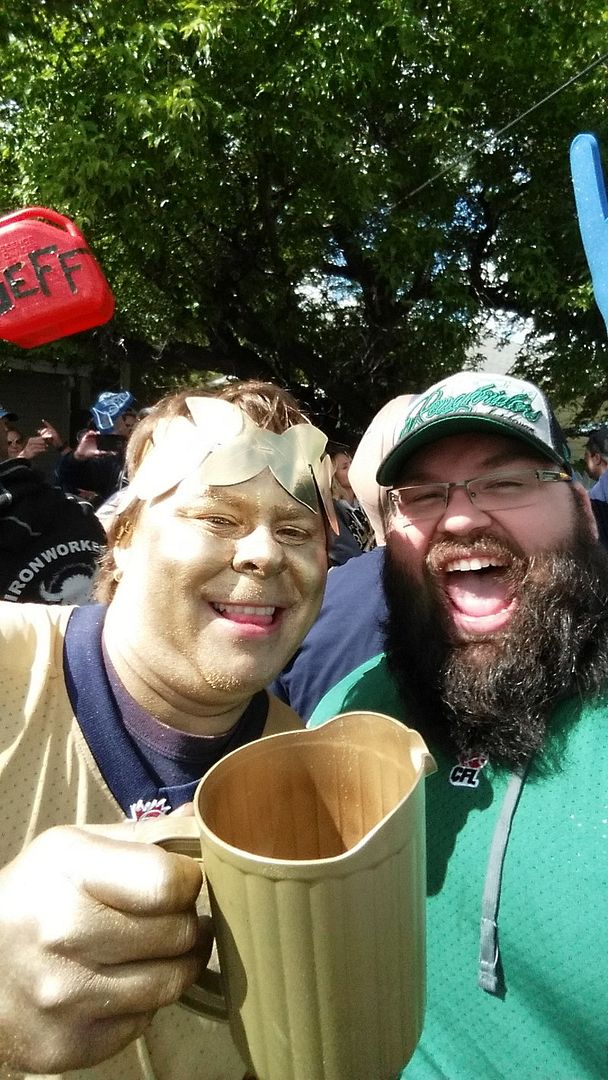 I've heard rumours that his brother is the one that paints him head to toe. That has to be the worst job in pro sports.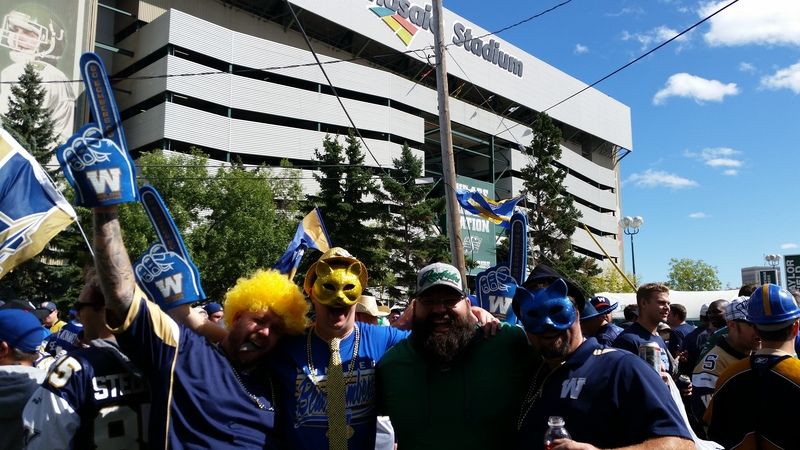 When it comes to Labour Day, it's almost like the game is secondary but you can't just forget about it completely.
Fans in green have been absolutely sick of hearing about knock-knock jokes featuring "Owen," so it was important that "Owen" got sent packing – and packing he was sent.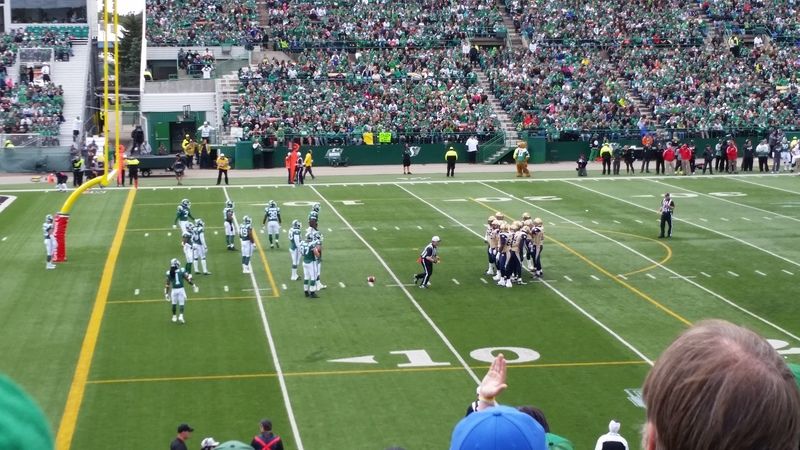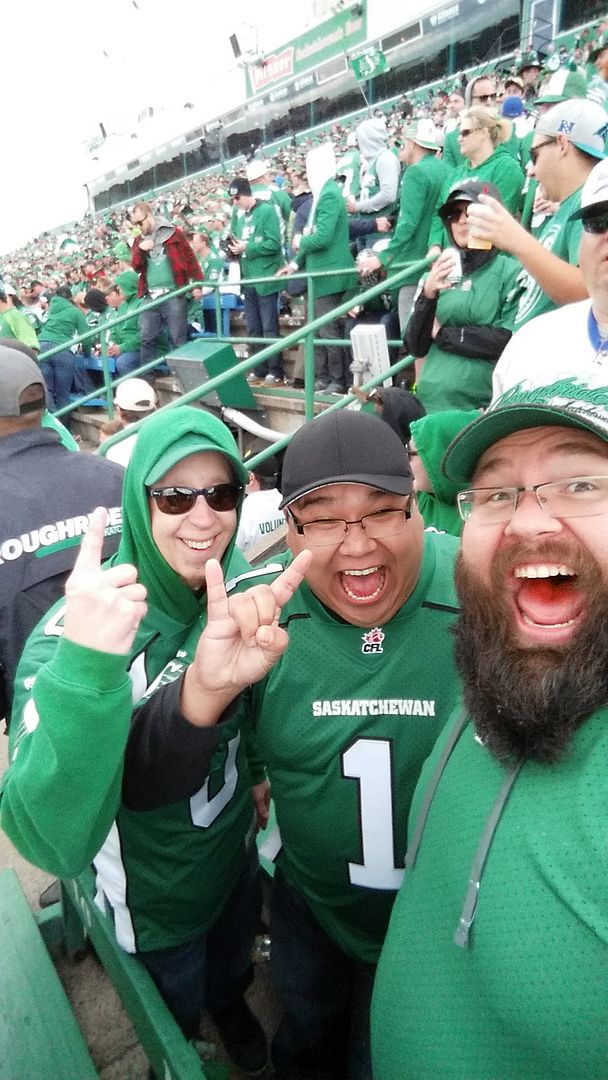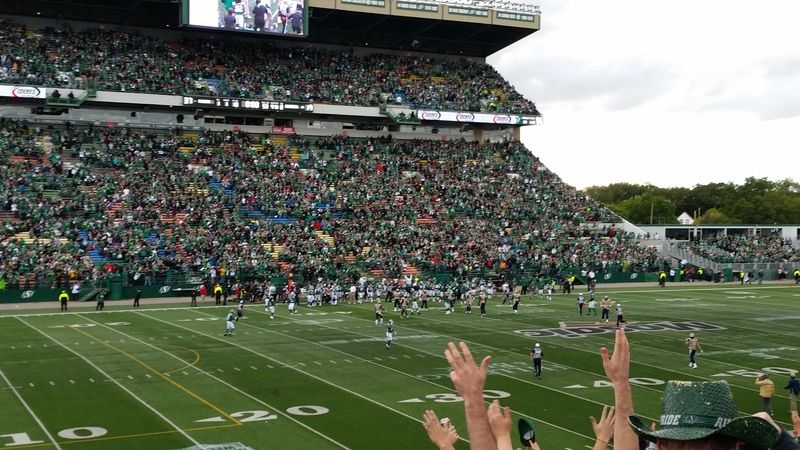 Riders beat the Bombers, 37-19, to win their 11th consecutive meeting with Winnipeg on Labour Day. Next year's edition of the Classic will be the 50th and the final time the Riders and Bombers' Labour Day battle will happen at Taylor Field (Mosaic Stadium). 1,000,000 Canadians joined in on the tradition from their homes.
What an @MarksCanada #LDWeekend! 1+ Million taking in @SSKRoughriders vs. @WPG_BlueBombers! #CFL pic.twitter.com/4v3tkeK5Ft

— CFL Communications (@CFL_PR) September 8, 2015
Oh – and I better give huge props to my girlfriend for putting up with the craziness in Regina. Look at her rocking that green and gold!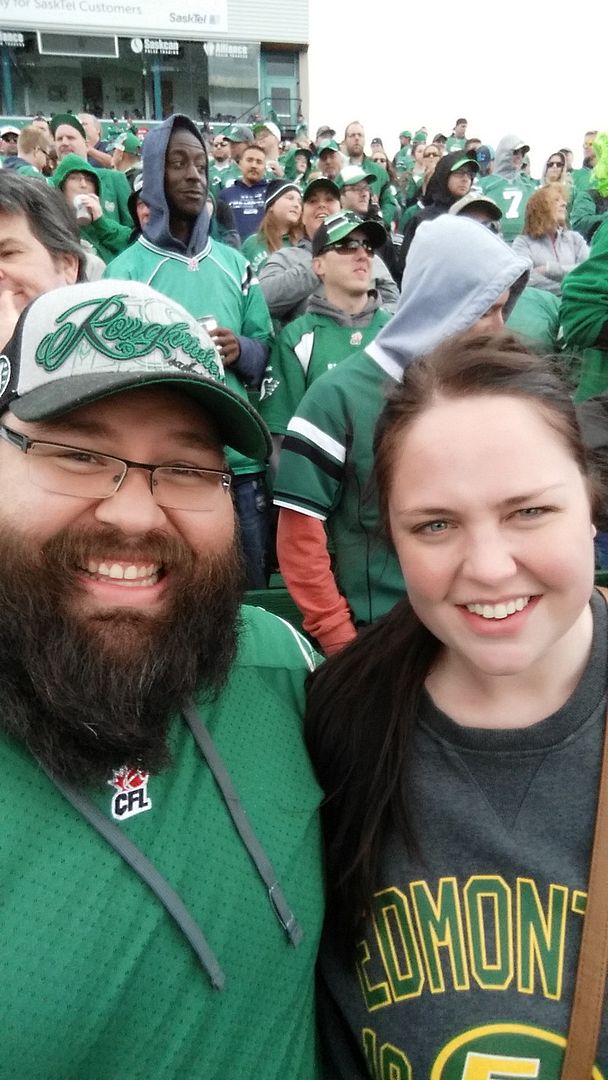 Off to Calgary we go!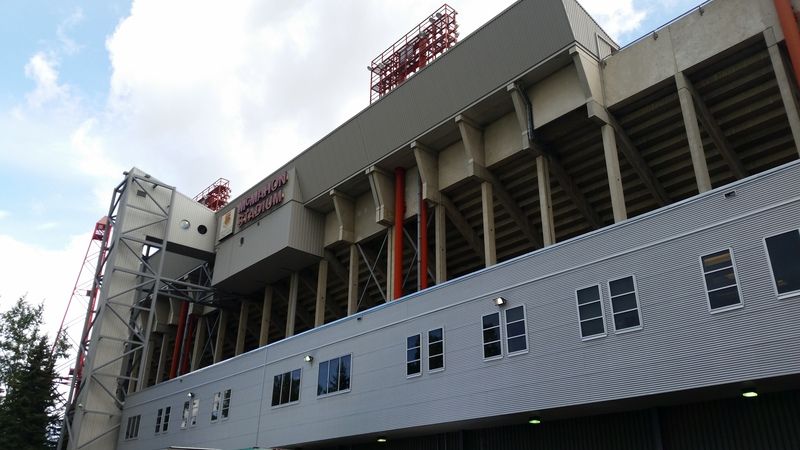 Part two of Labour Day happened over five hundred kilometers away in Calgary, Alberta. Thank goodness for Medicine Hat, as it gave us a place to break up the long drive.
I've never had the chance to attend a Labour Day Classic in Calgary but I have been at two Battle of Alberta matches, both coming last year. Edmonton and Calgary have a legitimate dislike for each other; reference Deon Lacey's actions towards Bo Levi Mitchell and the Stampeders during the pre-game handshake.
WATCH: Deon Lacey wanted nothing to do with the pre-game 👊. Rivalries run deep. 🎥: http://t.co/iBPlqAl6BS pic.twitter.com/JS6U9P0JlN

— CFL (@CFL) September 8, 2015
Lots of people are up in arms about Lacey's act, but I think it adds to the rivalry: It's the *Battle* of Alberta.
Off the field, things seem to be a little more civil, as Jade the tailgating Stamps fan was kind enough to invite me (decked out in Rider gear) and my girlfriend (decked out in Esks gear) to his tailgate.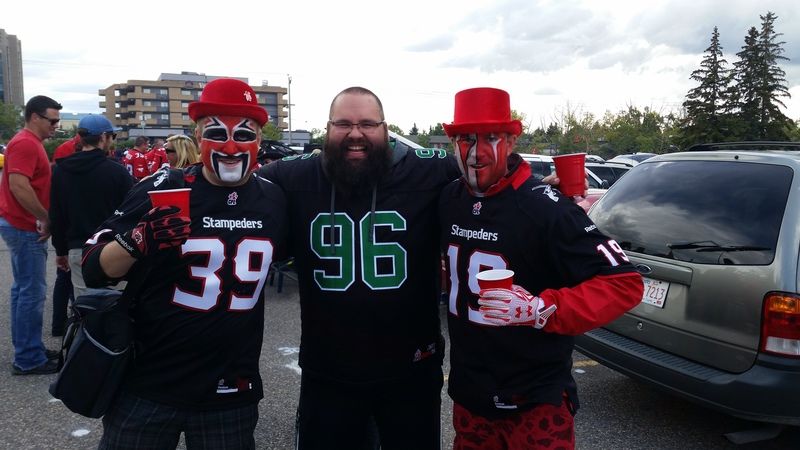 Only in the CFL.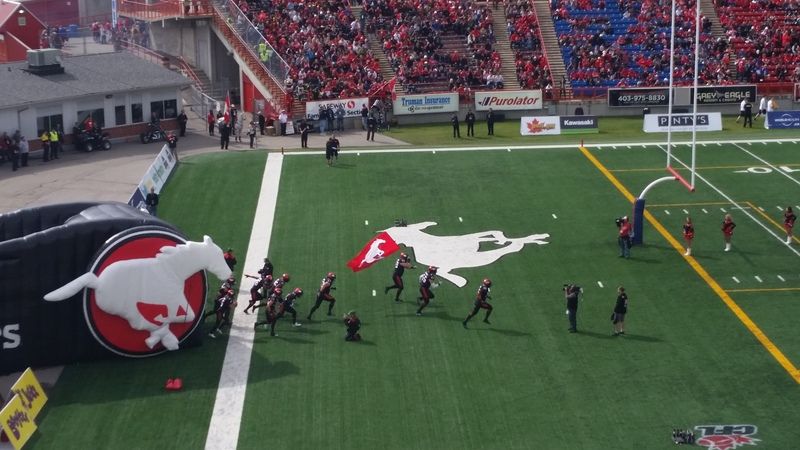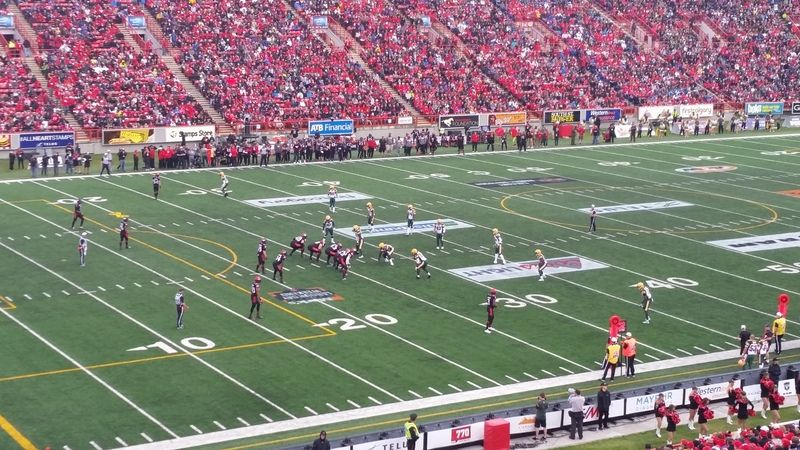 You know the result already: Calgary beat Edmonton for the 12th consecutive time during the regular season, 16-7, in a very defensive war. It felt like the playoffs.
It's weekends like Labour Day and the Grey Cup when it's shown that the Canadian Football League is more than just a game to Canadians. I saw a tweet that said, "The NFL is about making money while the CFL is about making relationships." I couldn't have said it better myself – and I can't wait to do it all again next season.
– written by Travis Currah
---
---