Reminiscing about the good times in the Rider Nation
As I sit here listening to the post-game call-in show, I can't help but think about the "good ol' days": 2013 to be exact.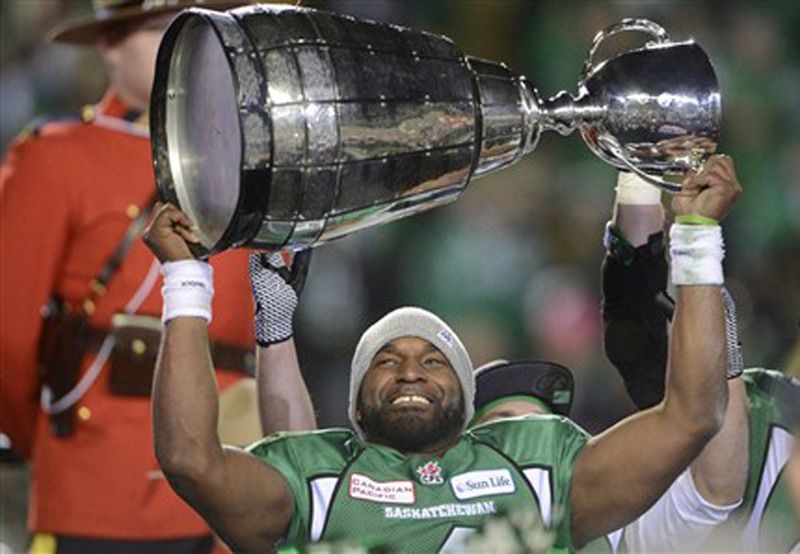 How sweet it was. Through all the adversity Darian Durant has been through, from the 13th Man Debacle in 2009 to a second straight Grey Cup defeat in 2010 to the last-minute 80-yard touchdown to win the West semi-final for the Stampeders in 2012, he came back every year working harder and harder to bring the title to Rider Nation. It finally happened in 2013 at the final Grey Cup to ever take place in Mosaic Stadium and it seemed to erase the feeling of all the heartbreaking losses from the past.
November 24th, 2013, was a magical day for a Roughrider fan. I ascended upon Regina on the Thursday of Grey Cup week and the weather was absolutely terrible: minus-35 Celsius and much of the same for Friday and Saturday. I'll never forget waking up Grey Cup Sunday to a beautiful day just barely above zero on the thermometer. At that moment, I knew that there was such a thing as "football gods". That belief was further confirmed when the Riders handed the Tiger-Cats a crushing 45-23 defeat.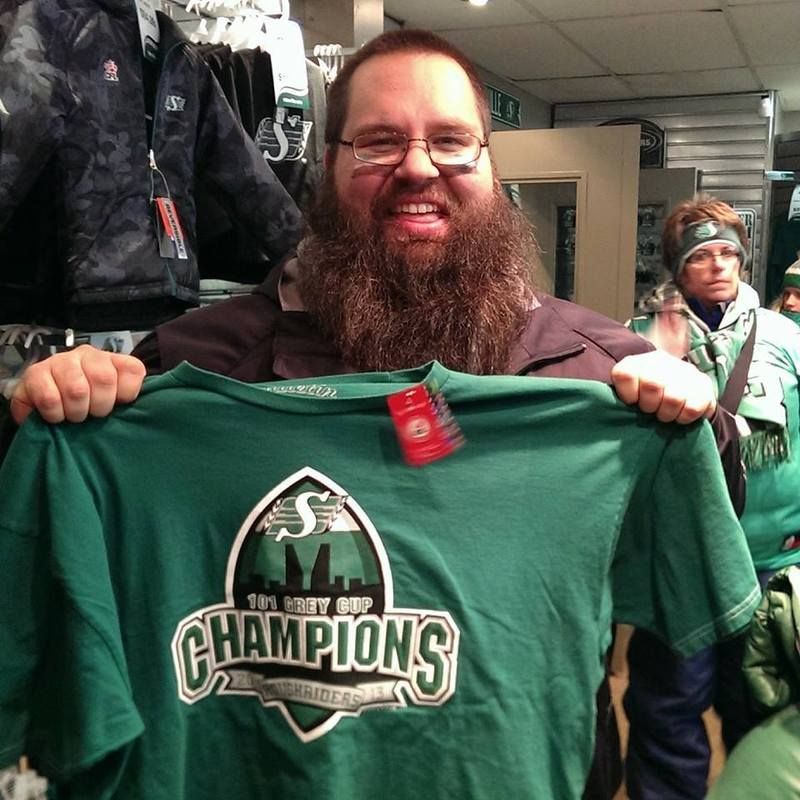 Not half an hour after the big win, I was able to stroll into the Rider Store and proudly purchase a Grey Cup Champions T-shirt. That felt so good. I miss that beard, too. I bet a friend that I'd grow a beard until the Riders won a Grey Cup again – thankfully they won eleven months after the wager was made.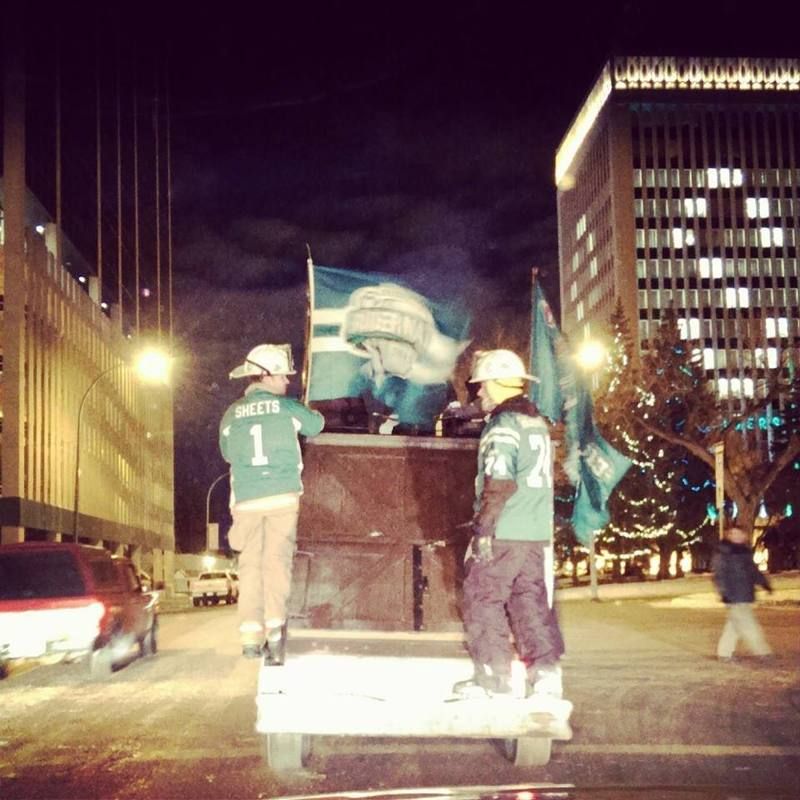 From Mosaic Stadium, I drove up and down Albert Street in Regina and high-fived people on the street until my elbow was sore. We ended up behind those firefighters hanging off a truck with an office building sporting an "S" to the right.
I remember waking up the next morning and beginning a frantic search for a copy of the Leader Post, Regina's flagship newspaper. Every gas station was sold out. I began the disappointing trek back to Saskatoon with the goal of finding one. I decided to stop at a gas station in a small town called Lumsden. A huge stack of newspapers! The headline read, "Domination in Rider Nation". I got two – one for me and one for my brother. Rider Pride is in your blood.
As I returned to Saskatoon Monday morning, the Riders announced that the parade would go down Albert Street the very next day. Back to Regina, I went to take in as much of this celebration as I could.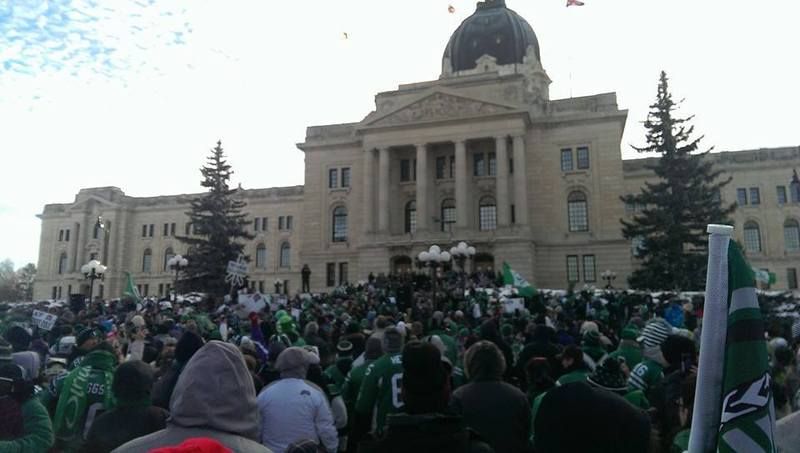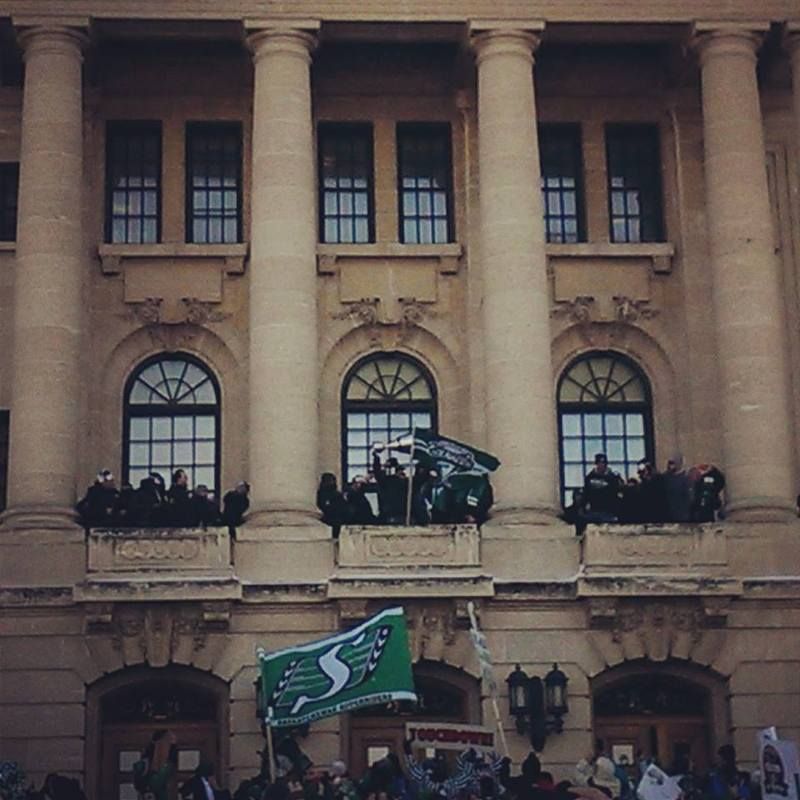 The ultimate payoff happened a month later when the trophy came to Saskatoon and me and my "Grey Cup Beard" got to touch the Holy Grail of Canadian football.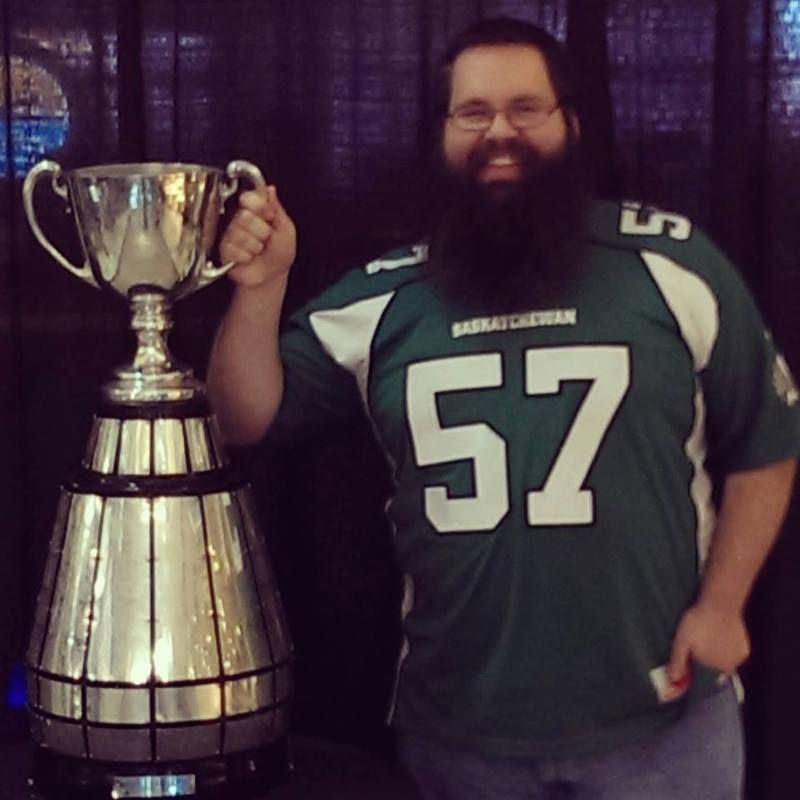 2013 was so long ago.
We sit here in 2015 and Rider Nation has hit a new low.
So… #CFL teams to start 0-9 the last 50 years: 2015 Saskatchewan 2003 Hamilton 1998 WPG 1994 Shreveport 1989 Ottawa 1981 Toronto 1979 Sask

— Arash Madani (@ArashMadani) August 30, 2015
I've been defending head coach Corey Chamblin all year long but after this 35-13 loss to the Ottawa RedBlacks, there is no longer anything to defend. Rookie quarterback Brett Smith started the game completing 6 of his 10 pass attempts including one touchdown and one interception before Chamblin made the puzzling decision to sit Smith on the bench.
In comes Tino Sunseri. You could almost hear Rider Nation yell "not again!" all at once. He was sacked an incredible ten times as the Rider offense put up three points in the second half. Yes, Smith threw an interception but all quarterbacks do. At least he has the mobility to extend plays with his legs and give the Riders a chance. Sunseri just doesn't, and he never will.
Jerome Messam is second in the league in total yards with a 7.3 yards per carry average. Messam had *three carries* in this game. I get that the Riders were down 14-0 early, but they fought back to within four points before absolutely imploding and pulling Smith from the game after a tough interception.
The Labour Day "Classic" with the Winnipeg Blue Bombers is on deck, and the Riders ten-game winning streak on Labour Day is in serious jeopardy. Will Chamblin still be on the sidelines? He now owns a 19-26 record during the regular season and that Grey Cup Championship now seems oh so long ago. The bizarre decision to pull Smith from this game has to be the straw that breaks the camel's back. Make no mistake: Rider Nation is *mad* and they want Chamblin gone. I can't argue with that sentiment any longer.
– written by Travis Currah
---
---