New stadium proposed for Calgary Stampeders, Flames
What an exciting past half decade for the Canadian Football League. The league is as financially stable as ever and new stadiums are popping up everywhere:
•  In 2011, a renovated BC Place opened its doors;
•  in 2013, Investors Group Field opened in Winnipeg;
•  2014 saw the opening of a new Tim Horton's Field in Hamilton, a renovated Commonwealth Stadium in Edmonton, and an awesome TD Place in Ottawa;
•  2016 will have the Argos in BMO Field; and
•  in 2017 the Roughriders will be playing in "New Mosaic Stadium."
Introducing Calgary NEXT…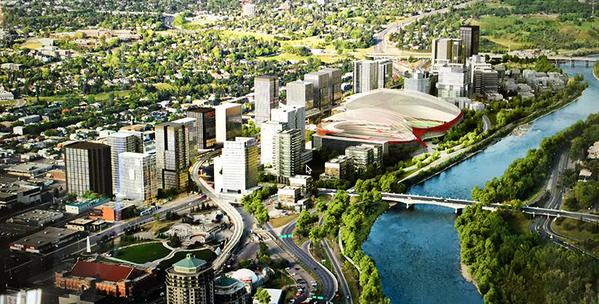 The new facilities for the Flames and Stampeders will be right next to each other, with the Stamps playing in a dome facility with retractable seating to bring fans closer to the action despite the running track.
Costs for constructing the new arena complex are currently estimated at $900 million; Calgary mayor Naheed Nenshi has stated that public funds could not be contributed to such a project until 2019 at the soonest.
(If this goes through, does it mean no more "Snow Bowls" in Calgary?
– written by Travis Currah
---
---