The Tim Horton's home field advantage (It's gotta be the coffee)
The Hamilton Tiger-Cats are simply unstoppable at Tim Horton's Field. There must be something in the coffee because, since the new stadium was finally finished last fall, the Tabbies haven't lost a single game at home. I can't function on Monday mornings without a big tall cup of Tim Horton's joe, so I can only imagine how productive I'd be if it was at my fingertips constantly. The Ticats' streak continues with a convincing win over Winnipeg despite Andy Fantuz and CJ Gable hitting the six-game injured list.
HIGHLIGHTS: Relive the #Ticats 38-8 win over the #Bombers. WATCH > http://t.co/ttxUINUYdK pic.twitter.com/vH2r5LQRVC

— Hamilton Tiger-Cats (@Ticats) August 10, 2015
So that's nine consecutive wins and counting...
The number of victories for opposing teams at #TimHortonsField pic.twitter.com/Sye8WBqoLW

— Milt Stegall (@MiltStegallTSN) August 9, 2015
The next team to walk into the "Tigers Den"? BC Lions on Saturday. Good luck, boys!
And good for those Tiger-Cat fans! I'd argue that no other fan base in this league has been jerked around more than them in recent history. Ivor Wynne stadium was torn down after the 2012 season with Tim Horton's Field to be ready early on in 2014. For 2013, the team was forced to play in Guelph (some 50 kilometers from Hamilton) in a stadium with a capacity of just under 14,000.
When 2014 rolled around, the new venue wasn't ready in time forcing the Ticats to play in another CIS stadium, this time at McMaster University. On top of that, when the stadium finally opened last year, it wasn't all finished so they couldn't fill the place to capacity!
Tim Horton's Field is now completely finished and it is awesome. The fans, despite the team having not won a Grey Cup since 1999 or hosting one since 1996, have come out in droves to make the stadium the single most difficult place to play in the CFL. The passion of Tiger-Cat fans cannot be questioned.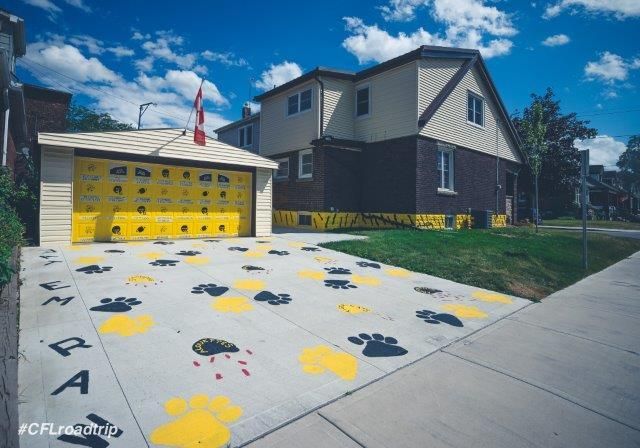 Johany Jutras grabbed that photo of a TiCats house while on her CFL Road Trip across Canada to photograph every stadium in the Canadian Football League.
Good things come to those who wait. Tiger-Cats fans waited for their stadium and now they're waiting for their championship. Could they be playing in their third straight Grey Cup in November? Other than Winnipeg, I'm not sure another fan base deserves it more than Hamilton fans.
– written by Travis Currah
---
---