Nichols's leash in Edmonton growing shorter
Well, yesterday's game in Edmonton was another wet affair for me: I got just as drenched as I did at the Esks' home opener a few weeks ago. I'm just glad it was rain instead of beer!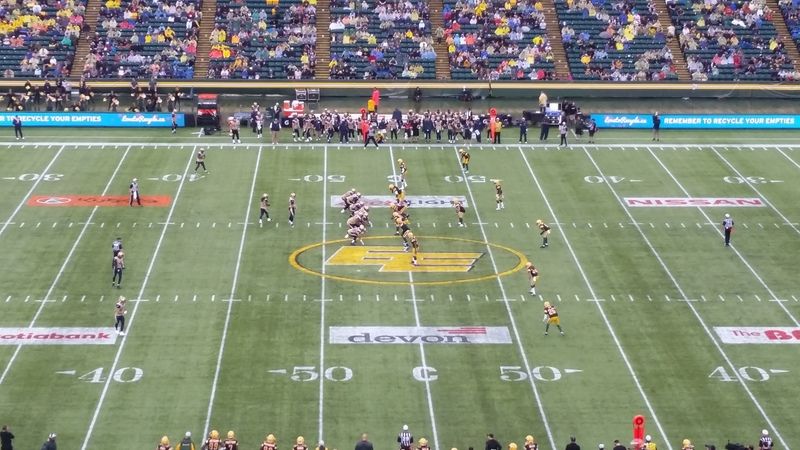 That rain definitely affected the Blue Bombers and Eskimos, too. By halftime, the fans had been treated to a 4-3 game. It was almost like we went to a football game and a hockey game broke out. Once Drew Willy went down with an injured knee, though, everything went downhill for Winnipeg.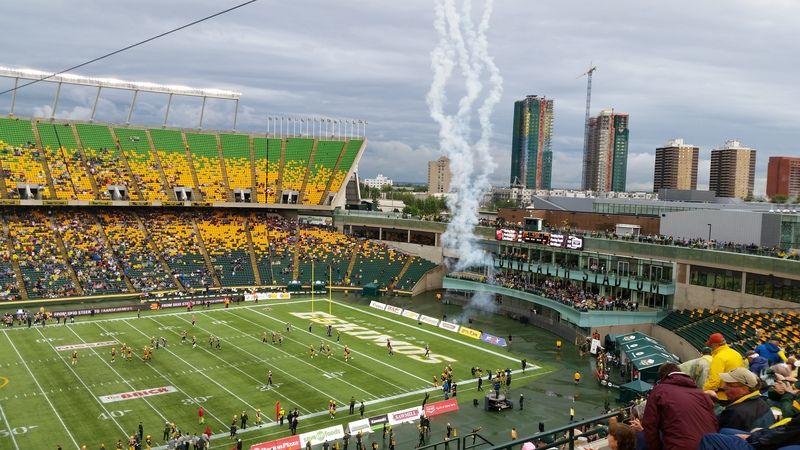 It was a non-stop touchdown parade for the Eskies in the second half as they put up 28 points while shutting out Winnipeg's offense. Much like the TiCats game in Week 2, the Winnipeg Blue Bombers absolutely packed it in when Brian Brohm entered the game in relief of Drew Willy. Brian Brohm's subsequent performance in the remainder of the game (9-of-17 for 71 yards and 3 interceptions) left Blue Bomber fans wondering why third-string quarterback Robert Marve didn't get an opportunity.
Marve's snub sure provided us with some comedy gold with the hashtag '#WhatMarveDid':
Treated O'shea to a surprise concert...to One Direction. #whatMarveDid

— The New Rouge Radio (@RougeRadio) July 26, 2015
Spoiled the Bachelorette finale before O'Shea had a chance to catch up on PVR. #WhatMarveDid

— Fonzie VanDamme (@stadnek) July 26, 2015
He put the lime in the coconut and drank them both together. #WhatMarveDid

— Uliana Kapty (@Barukka) July 26, 2015
Head coach Mike O'Shea claimed Marve was still batting a nagging injury but if that's the case, why waste a roster spot and dress an injured quarterback?
In another puzzling move, Eskimos coach Chris Jones pulled Matt Nichols out of the game despite playing quite well in the rain. He finished his day going 17-of-25 for 196 yards – numbers which might have been even better if his receivers hadn't dropped a few slippery balls. Former CFL quarterback Kerry Joseph actually suggested that Nichols demand a trade out of Edmonton due to a lack of respect.
If Drew Willy is out for a while, Matt Nichols needs to ask for a trade to Winnipeg because he gets (cont) http://t.co/lFGBXVYc1K

— Kerry Joseph (@kerryjoseph4) July 26, 2015
Not one to turn down an opportunity, James Franklin gladly came into the game and completed 5 of his 8 passes for 83 yards and *three* touchdowns. It was a weird move by Chris Jones but how can you argue with the results?
Cue the quarterback controversy in Edmonton. Matt Nichols is expected to start the next game as the Roughriders roll into Edmonton but if he falters at all, James Franklin could be shooting up the depth chart faster than anyone previously thought.
The @EdmontonEsks pulled out a rainy one last night. ☔ 📺 ➡ http://t.co/bIIzKf0G95 #CFL pic.twitter.com/D6FebB2dzT

— CFL (@CFL) July 26, 2015
I said Edmonton would be Grey Cup Champions this year, and now they're really starting to look like serious contenders to win their first Cup since 2003.
– written by Travis Currah
---
---