CFL Video Game in the Works? (Oh please, oh please...)
It's a common misperception that one of the major issues the Canadian Football League faces is that young people are not interested in the league. This survey done at the University of Lethbridge confirms that that isn't exactly the case. The CFL is, in fact, gaining traction with both young Canadians *and* Americans while the league is second in popularity to the only the National Hockey League in Canada.
Many fans have been asking for a CFL video game and they believe a game would go a long way towards getting more young people interested in the league. At Mark Cohon's State of the League Address at the 102nd Grey Cup in Vancouver, a young boy about 12 years old stood up and asked Cohon if this would ever happen. The League has been hearing the fans and they may be taking it as serious as they ever have. The new commish, Jeffrey Orridge, was posed the same question multiple times during the "#AskTheCommish" session on Twitter Thursday afternoon.
We would love to see a #CFL video game. We have heard the fans, working hard to get there. #AskTheCommish http://t.co/5ue5vUNSG7

— CFL (@CFL) July 23, 2015
A new CFL video game wouldn't be the first time a game has been released though.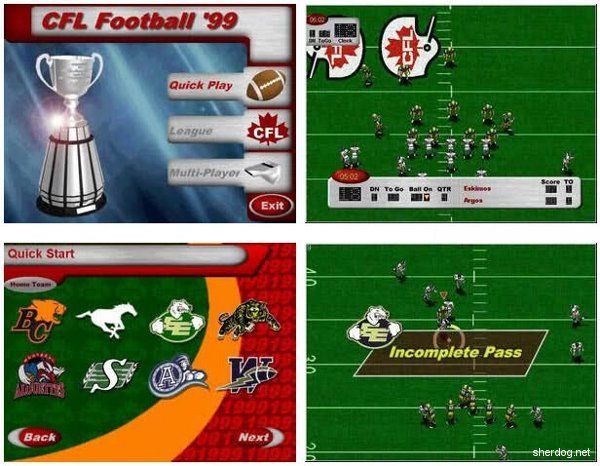 The one and only game was CFL Football '99 developed by Wintervalley Software. The people who did play it ended up being disappointed in its simulation style and 2D graphics especially when compared to the massively popular Madden franchise.
But why can't the game just be a side mode in a Madden game? Good question. Madden developers actually created an in-house CFL game three years ago, but it was never allowed to the see the light of day.
I understand the market for a CFL video game is rather limited but why can't this be added as a downloadable add-on or mod with the Madden franchise? I'd *gladly* pay extra money to be throwing bombs with Darian Durant (healthy, of course) or returning kicks with legends like Pinball Clemons in classic stadiums like Ivor Wynne. Or relive classic moments like the Ice Bowl, the Fog Bowl or the 13th Ma...nevermind. The game would give me a shot at digital redemption!
CFLpass will officially crown Jeffrey Orridge as the greatest CFL commissioner of all time if we get a new video game during his tenure. Make it happen, commish!
– written by Travis Currah
---
---